Chapati, roti, phulka and there are various other names for this bread. Phulka is an integral part of the Indian meal. It might only be a small round bread but it is packed with vitamins and nutrients. These fluffy, soft round shaped chapatis can be turned into healthy power boosters by using millet flour. If you are someone who cannot imagine their meal without phulkas then include the organic millet flour in the chapati dough and you will never turn back to the plain wheat rotis.
To order your organic millet flour, simply visit namma veedu– your online store.
A millet roti is an excellent source of fibre, that lowers blood cholesterol levels and keeps your digestive system healthy. Made without oil this bread is rich in carbohydrates to sustain energy through those long working hours.
Tips to Make Soft Phulkas
Who doesn't like soft fluffy phulkas when served hot. If you are a beginner trying to make those delicious chapatis, here are some tips that can come in handy:
Millet Flour
To make sumptuous chapatis one must use flour that is additive-free such as millet. You can mix either wheat or rice flour with millet flour while making phulkas. Millet phulka flour is available at Namma Veedu where only high-quality flour is stocked. 
Soft Dough
The next tip to get that fluffy phulkas is the dough-making process. This might seem unimportant but the secret of making soft phulkas is based on how soft the dough is. While kneading the phulka dough one needs to ensure that the dough isn't too soft or hard. The dough should be smooth, non-sticky and soft. To check how soft the dough needs to be, poke a finger in the dough and the dough should rise slowly.
Use hot water or hot milk to knead the dough for relishing phulkas.
Resting the Dough
This is another tip to get puffed up chapatis and is skipped by many. Please ensure to leave the dough to rest once kneaded. Rest the dough for 20- 30 minutes. Then knead it again for 2-3 minutes. This way you will get those soft phulkas that you yearn for.
Rolling The Phulkas
Use a rolling pin and board to make round-shaped phulkas. First, make small round dough balls before rolling them out. Ensure not to use excess flour while rolling the phulkas to avoid burning. Try to roll out even round-shaped flatbreads to get evenly puffed up chapatis. While rolling the dough the pressure on the rolling pin should be minimum so that the dough moves along in the circular motion.
Cooking on flame Method
After rolling the phulkas it's now time to cook them. There are various ways to cook your chapatis. One of them is to cook the phulkas over a direct flame with tongs. Initially, you need to cook the phulkas over the Tawa and then once it is roasted slightly on both sides, roast it on flame. This would puff the chapatis and also give out a smoky flavour.
Cooking over the Tawa Method
The other very commonly used method is to cook the flatbread over the Tawa. While roasting the chapatis over Tawa, use a thick cloth to put pressure and cook all the sides of the phulka. This will ensure to puff the phulka and get the soft texture.
Above mentioned are a few ways to get that delicious soft flatbread you've always wanted to make. Besides the taste, this flatbread is beneficial to overcome constipation and is calorie-friendly.
Bonus
Paneer Stuffed Phulkas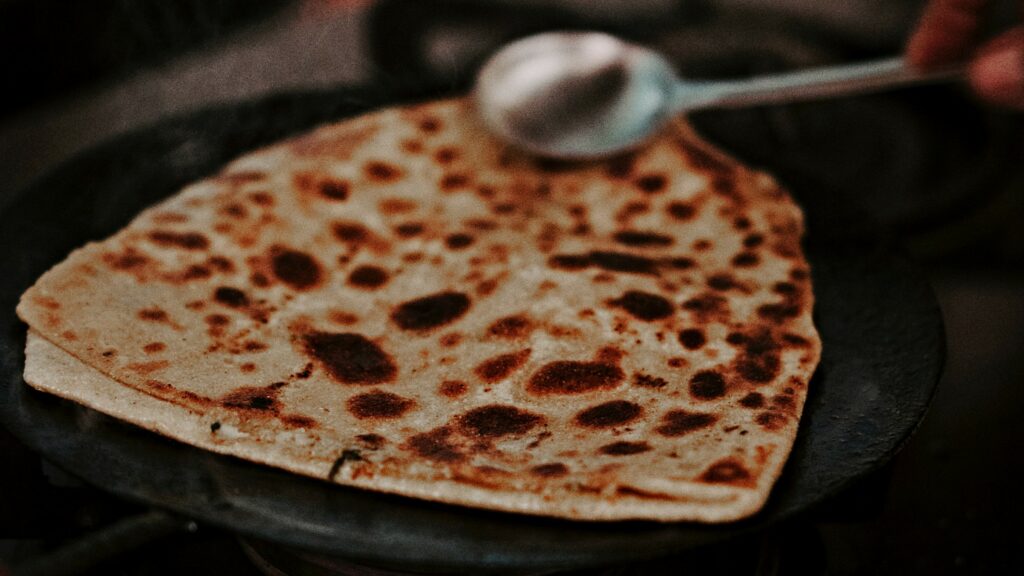 Everyone relishes a stuffed paratha with curd and onions on the side. Here is a mouthwatering recipe for paneer stuffed phulkas:
Take a bowl and some grated paneer/ cottage cheese.
In the bowl put some spices like red chilly powder, coriander powder, cumin powder and salt.
To enhance the taste you can also add some chopped green chilies and spring onion. 
Mix this mixture of paneer and spices well and keep it aside.
In another bowl, take one cup Namma Veedu Millet flour and knead it until soft.
Take the millet dough ball and roll it a bit. 
Then, put a spoonful of this stuffing on the rolled dough and then fold it up without any openings. 
Put the stuffed dough ball over the dry flour and then start rolling it with light pressure. 
Once the rolling is complete, put it over the hot Tawa and let it cook evenly.
You can apply ghee or oil to activate the flavour.
Serve this stuffed phulkas with spiced curd and pickle on the side.